Demonstration and nursing clinical teaching - Systematic Literature Review
Abstract
Objective: This study aimed to carry out a systematic literature review on the effectiveness of demonstration as a clinical teaching strategy for nursing. Method: The search was carried out in articles indexed in online databases: Medline/PubMed, Scielo, BVS-WHO, and PeriEnf during the period 2005-2010. Results: The final sample consisted of 08 studies with level 1 or 2 of evidence. All studies concluded that demonstration is effective for clinical teaching related to psychomotor skills. Conclusion: This literature review concluded that demonstration is higly recommended clinical teaching in nursing as well.
Keywords
laboratory demonstration; demonstration, skills laboratory, nursing e teaching
DOI:
https://doi.org/10.5935/1676-4285.20102837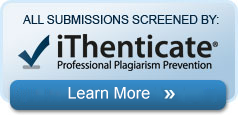 The articles published in Online Brazilian Journal of Nursing are indexed, classified, linked, or summarized by:
Affiliated to:
Sources of Support:
 Visit us:
The OBJN is linked also to the main Universities Libraries around the world.
Online Brazilian Journal of Nursing. ISSN: 1676-4285

This work is licensed under a Creative Commons:Noncommercial-No Derivative Works License.